Reach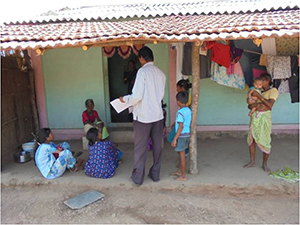 The SoUL project aims to reach 1 million rural school children in the states of Maharashtra, Madhya Pradesh, Rajasthan and Odisha. Currently, with the support of 9 Institutional Partners, the project covers over 10000+ villages. This includes a total of 21 districts (2 in Maharashtra, 9 in Madhya Pradesh, 8 in Rajasthan and 2 in Odisha) and 72 blocks (8 in Maharashtra, 30 in Madhya Pradesh, 15 in Rajasthan, 19 in Odisha) with a 75% saturation target in each block. There are 42 assembly and distribution centers and 100+ SoUL Repair/ Resource Centers in operation, with 1000+ manpower trained by IIT Bombay. The districts and bocks were selected based on the 'doability' criteria and the presence of strong Institutional Partners in the region. Most of the selected blocks are tribal blocks.
The districts and the specifically selected blocks in the different states are as follows:
Maharashtra: District Ahmednagar (Blocks: Akole, Sangamner), District Palghar (Blocks: Jawhar, Mokhada, Palghar, Vikramgarh, Wada).
Madhya Pradesh: District Annupur (Block: Kotma), District Barwani (Blocks: Barwani, Niwali, Pati, Sendhwa), District Betul (Blocks: Athner, Betul, Chicholi, Ghoda Dongri, Shahpur), District Dhar (Blocks: Dhar, Kukshi, Nalcha, Sardarpur, Tirla), District Jhabua (Blocks: Jhabua, Meghnagar, Petlawad, Rama, Ranapur, Thandla), District Khandwa (Blocks: Khalwa, Pandhana), District Khargone (Block: Jhirniya), District Mandla (Blocks: Bichiya, Ghughari, Mandla), District Shahdol (Blocks: Burhar, Gohparu, Sohagpur)
Odisha: District Koraput (Blocks: Baiparigudi, Bandhugaon, Bariguma, Dasmantpur, Jepore, Koraput, Koraput NAC, Kotapad, Kundra, Lamtaput, Laxmipur, Nandapur, Narayanpatna, Potangi, Semiliguda, Sunabeda NAC), District Nabarangpur (Blocks: Kosagumda, Nabarangpur, Papadahandi)
Rajasthan: District Banswara (Blocks: Bagidora, Kusalgarh, Talwara-Banswara), District Baran (Blocks: Antah, Baran, Kishanganj), District Bhilwara (Blocks: Mandal, Mandalgarh), District Chittaurgarh (Block: Begun), District Dungarpur (Block: Aaspur), District Pratapgarh (Blocks: Pipalkhoont, Pratapgarh), District Rajsamand (Block: Kumbhalgarh), District Udaipur (Blocks: Gogunda, Jhadol)
The following map illustrates the tribal (dark blue) and non-tribal (light blue) districts.